A Repositioning Device for use when seating or reclining the infirmed
It's Simple, Effective and Inexpensive!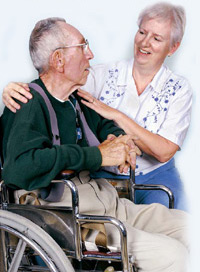 Need help moving a patient?
For physically challenged, bed ridden or infirm individuals, Caregivers Aide, LLC offers repositioning equipment or devices. Not a patient lifting device, but a helper for the care giver, my repositioning devices, the Skid Seat™ or Bed Sled™, can be used for a wheelchair or hospital bed.
Wheelchair accessories or hospital bed equipment can be expensive. Patient lifting devices or equipment can be clumsy and cumbersome. The Care-Give-R-Lift™ product line of repositioning devices for the infirm are priced affordably, are simple to use and effective. Care-Give-R-Lift® products for Stroke, Parkinson's, ALS, MS and more.
Caregiver's Aide, LLC strives to bring quality durable medical equipment and devices to the care giver needing assistance for handling infirm individuals. Check the "Products" page and the newest page "Tips and Suggestions", for ways these products can be more useful to you.
When looking for handicap or mobility equipment for physically challenged, bed ridden or infirm individuals the Care-Give-R-Lift™ Skid Seat™ and/or Bed Sled™ may serve your needs perfectly. Check out the details and see for yourself.Caring for a disabled loved one or client can be hard and demanding.  Finding a tip, trick or device to make the task even al little bit easier can be the bright spot of your day. It is my hope that what you find here when used in your own situation will brighten your day and make your tasks a little easier.
If caring for them today
means you won't be able to
move your own body tomorrow
it's time to get help.