Care-Give-R-Lift Bed Sled® has earned the Parent Tested Parent Approved (PTPA) Seal of Approval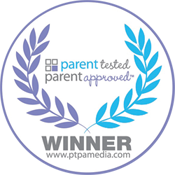 The Care-Give-R-Lift Bed Sled® was among many entries from across North America competing to earn the coveted PTPA™ Seal. Independent parent volunteers evaluate products in their own homes to ensure that PTPA winners are chosen based on merit and consumer experience – not on commercial considerations.
"We are so excited about winning the influential Seal of Approval from PTPA Media Inc.! The Bed Sled, our winning entry, has been used in facilities and private homes across the US and Canada since 2008. This award affirms that the Bed Sled is all that it claims to be. Caregivers Aide thanks our customers for their support and promises to continue to develop and provide reliable devices to assist in caring for disabled patients."
- Karen Shiffert, CEO and owner.