About Caregiver's Aide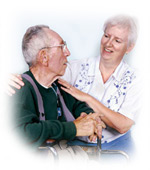 At Caregivers Aide, LLC, we understand how difficult it is to care for your loved one. You want the best for them but you also have to be careful and mindful of your own physical limitations.
Caregivers Aide was created to share items I have made and found useful in caring for my husband who has Parkinson's disease for 15 years. He is 86 years old and in stage 4 of the disease. My products were created out of need and they work. If I had not created these items I do not know how I would have cared for him this long. As long as I am able to provide his care he will never go into a nursing home.
If caring for them today
means you won't be able to
move your own body tomorrow
it's time to get help.
Caregivers Aide provides unmatched quality and value along with professional and caring customer service. We are committted to helping you give the best patient care possible. Our products and services are inspired by our needs (yours and mine) as caregivers, and our patient's needs. Care-Give-R-Lift® products are priced affordably, are simple to use and effective.
Thank you for considering Care-Give-R-Lift products.
Karen Shiffert